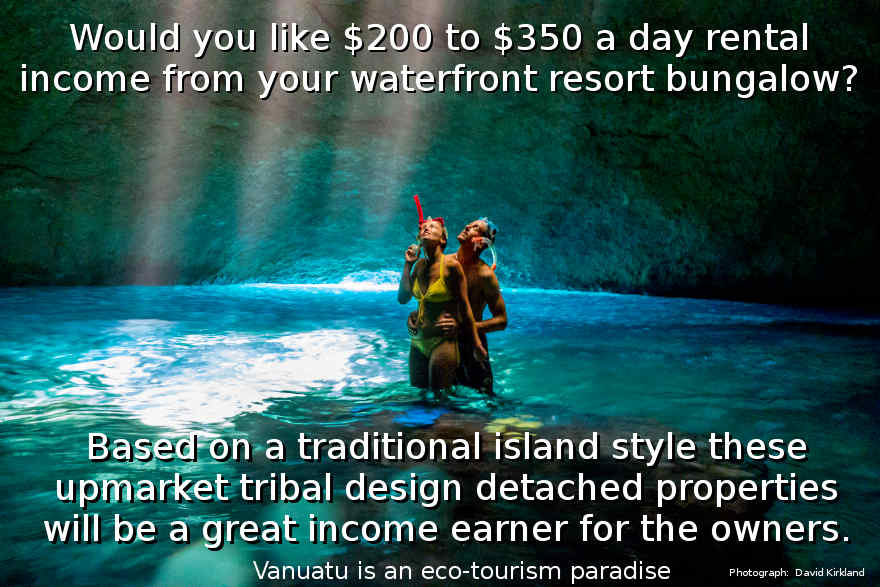 Limited Release!
Stage 1: only 7 priced from US$250,000 for one entire bungalow – Fully Furnished!
New Offer! You can be a partner via fractional ownership…
Fabulous waterfront island resort. World Class diving!
Super Easy Fractional offer: 4 owners of 1 bungalow with land.
Only US$20,000 deposit and repay US$99 weekly over 10 years T.A.P. plus 1 week usage FREE per year per owner (4 owners maximum per bungalow, four free weeks total)

Now we have secured the major Australian diving operation Pro-Dive as management partner, the resort
is sure to have a higher-than-normal occupancy.
This adults-only resort is for those seeking a tropical escape and for those wanting to take advantage of our Pro Dive Scuba Dive Academy. Twice the occupancy potential, and statistically, divers stay longer.
A recent tourism survey confirmed that 85% of holiday-makers prefer a waterfront location.
These newly released one-bedroom bungalows (7 are poolside, almost all have sea views) are selling fast. Own part of an exquisite Waterfront Paradise and enjoy 4 Full Weeks Free Holiday Access per year!
Beautiful Teouma bay is only 15 minutes from Port Vila – the French-influenced and thriving capital of the Republic of Vanuatu with its international airport, Bauerfield.
For more information on WHY to invest in Vanuatu, call Richard Butler (Tel: +61- 417007792) or use form on our contact page and request  the "Why Vanuatu" white paper, and/or the free ten-day "Expat Expert" email course.
Bank Finance available to approved purchasers.
BUYERS' BONUS!
Free inspection flight for purchasers worldwide*
(* conditions apply of course)
---
Pacific Haven Resort limited a company registered with the Vanuatu Investment Promotion Authority #1400 guarantees that all Strata Land Lease Titles pertaining to this Bungalow and land offer, have been produced via Vanuatu Lands Titles Authority, May 2015, and are ready to transferred instantly upon settlement into purchaser's nominated personal name or company ownership title.